Triaxial Weaving
My version is woven like a basket, in three directions, from dye painted strips of fabric. The finished piece is three layers thick, and the layer you see keeps changing from the front face to the back face and in between. I do site-specific commissioned pieces, I teach the technique at conferences. I work with narrow silk ribbons, and wide dye painted strips. There's been some noise about me writing a book. Don't hold your breath, but who knows... In the meantime, see if you can find a copy of my article in Shuttle, Spindle, and Dyepot Spring, 1991.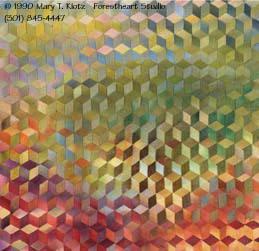 "Fecundity"; actual size about 28" square. Dye painted, triaxially woven wool. ©Mary T. Klotz
see more triaxial work
triaxial images in peyote beadwork: see Diane Fitzgerald's book
Contemporary Beadwork 1: Counted and Charted Patterns for Flat Peyote Stitch
(born during a visit to Forestheart Studio)
rug hooking
beads
glass bead making
fusing
raku
dyes
weaving, yarns, spinning
triaxial weaving
labyrinths
knitting
silk painting, silk ribbons
classes
special workshops at Forestheart
special events
workshops at your site
travel schedule
hours
home
email
NOTE: all prices, times, etc. herein are subject to changes without notice.
Please confirm by telephone just prior to your visit/order.
Forestheart Studio 200 South Main Street, Woodsboro Maryland 21798
301-845-4447
All content, graphics, photos © 2000 Mary T. Klotz, Forestheart Studio unless otherwise noted.