Labyrinth Walk Thursday October 11, 2001 Corolla NC on the beach
---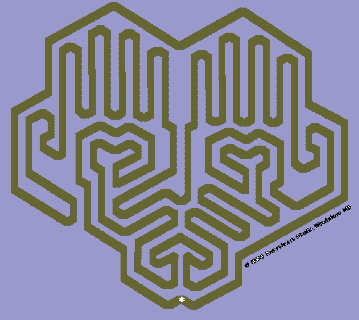 The labyrinth at Forestheart Studio was designed by studio owner Mary Klotz, who was intrigued with the design challenge. This labyrinth is nontraditional: it was charted on a hexagonal (triaxial) grid. It is not round, nor is it divided into quadrants, it has no center; the line is continual and returns to its starting point without retracing your steps. There are three vaguely heart shaped areas in which to pause. If the walk is begun in one direction, these inner heart areas of shorter line segments (with frequent turns) are encountered early in the journey, and then the path leads outward. If the walk is begun in the other direction, one is led from the periphery into the central areas.
The labyrinth, its embedded images of upturned hands, and each walk of the labyrinth are inkblots: they serve as metaphors for each individual according to where they are in their life's journey.
The experience of walking the labyrinth in solitude is distinctly different from that of sharing the walk with others.
You are welcome to visit and walk any time the studio is open.
NOTE: walk ON the lines, rather than between them (less painting!).
The image is available on t-shirts and will has been worked as a beaded piece exhibited in the labyrinth exhibit at Sumner School Museum, Washington DC, fall of 2000. The image is being considered for a peyote pouch beadwork kit or pattern. It is also available printed on linen foundation to make a hooked rug.

---
Fall 2001: Mary once again designed the corn maze for the Keystone Chapter of the Red Cross in Johnstown PA. see 1999's...
This is the Red Cross chapter that was called to the site of the hijacked plane that went down in Somerset County Pennsyvania, September 11, 2001.
For information: CatelinetB@usa.redcross.org
---
Labyrinth design: if you are interested in having a labyrinth designed specifically for your site or event, contact Mary Klotz at 301-845-4447
---
A variation of my embedded spiral design has been chosen to be planted at Camp Gaea.
See : http://campgaea.org/ (click on Labyrinth Project at bottom of page)
---
LINKS/RESOURCES: www.labyrinthproject.com
The Labyrinth Society
http://www.geomancy.org/tls/


---
rug hooking
beads
glass bead making
fusing
raku
dyes
weaving, yarns, spinning
triaxial weaving
silk painting, silk ribbons
classes
special workshops at Forestheart
special events
workshops at your site
travel schedule
hours
home
email
All content, graphics, photos © 2000 Mary T. Klotz, Forestheart Studio unless otherwise noted.